When the pandemic hit, it had a devastating impact on everyone, especially those who depended on live audiences for their livelihoods. Antonio Gustin, the visionary director of the Gateway Science Project, was not immune to its effects. His nonprofit organization, which utilized insects in a thrilling live show called Tony's Creepy Crawly Zoo to ignite a passion for scientific curiosity in children, was brought to its knees. Despite years of tireless work towards establishing a permanent home for his mission, Gustin's dream of creating a natural science park themed around insects and reptiles was on the brink of collapse. The park was meant to be a place where children could experience the wonder of live insects from all over the world, while also exploring and creating adventures in an outdoor area designed just for them.
In 2019, Gustin appeared to be on the brink of success. He had joined forces with his close friend Dan Capps, who possessed one of the most impressive insect collections globally. He had finally garnered the support of multiple sponsors, and his live insect show was scheduled for the entire year. To top it off, he even released a complementary science activity book for his show, entitled "My Science Diary," — the same day the stay-at-home order was issued.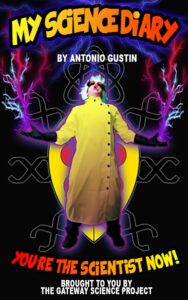 Like everyone else in this situation, he was told to go virtual to continue. "From the very beginning, I knew this would never work," Gustin said. "I did one virtual show over Zoom and it was just awful. My live show was never about me, or my animals, or any educational information. It was about the experience. The live show was exciting; it made you laugh, it made you scream, and in the end, everyone got to touch live alien creatures from all around the world. Kids lost their minds and wanted more. They would run home and tear apart their own backyards to continue the experience. 'Virtual' was like standing in a corner and mumbling to the wall."
Gustin was faced with a difficult challenge in figuring out how to move forward. He couldn't seem to escape the issue of generating an "experience" amid the pandemic. This thought process led him back to a concept he had considered a few years prior – virtual reality.
"I was introduced to virtual reality by an old high school friend that I ran into at a school while doing a show. He was now a professor who taught gaming design. It was one of the coolest things I had ever experienced, and I experienced it on a phone with a cheap pair of goggles. When I took the goggles off, I looked at my friend and said, 'Do they make a macro 360 camera?' I immediately knew what I was going to do with it."
The problem was a macro 360 camera did not exist. As of 2019, this type of camera still did not exist. Gustin devoted the following two years to intense research and development. He tried several prototypes that incorporated technology from various industries, but none of them were sufficiently effective to be taken seriously. However, in early 2022, he achieved success. He designed a camera that was compact enough to fit inside a terrarium, capturing in stunning 8K resolution his tarantulas, scorpions, and other creatures.
"When I saw the first video using my phone and an $8 pair of Google Cardboard goggles, I was stunned. I had actually done it! I was less than 2 inches tall and inside the terrarium with one of my tarantulas. I got goosebumps. I had very little experience in VR, but enough to know that I had done something unique. I now had the means to create a mind-blowing experience that could potentially reach hundreds of thousands of people in a whole new way."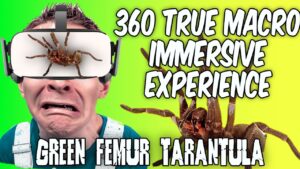 About this same time, Brett Waterhouse, owner of the Grove Gallery and a friend familiar with Gustin's work, reached out to him with a proposal. He said, "Hey, I have access to a matterport camera that does 3d scans.  I think we could do something with this. Have any ideas?"
Gustin's thoughts immediately turned to his friend, Dan Capps. Dan, a world-renowned insect collector, once possessed the largest private insect collection in the world. This collection was even featured at Disney's Epcot Center. The three of them spent an entire week organizing the collection in a warehouse, meticulously scanning each display by removing the glass from the display boxes.
"We knew it was something that we had to do to preserve this in the greatest detail for posterity. We were absolutely terrified of damaging anything. I mean, some of these specimens go back to 1872! More than a few are now extinct. The collection we scanned, which is only Dan's traveling collection, is probably worth about half a million dollars."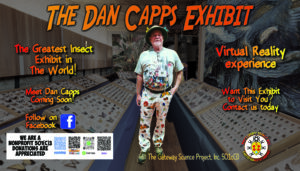 With the collection scan a complete success and the implementation of a functional macro 360 camera, the next step was to figure out how to deliver those experiences. Gustin had embarked on the creation of a science park that would showcase insects and reptiles as its main theme. He decided to continue that venture, but with a twist—build it in virtual reality!  
Throughout 2022, Gustin remained steadfast in his pursuit of his objective. The task of assembling it required countless hours of tedious labor. In an effort to enhance the outdoor experience, Gustin even created a virtual tour of a half-mile trail on a sprawling 23-acre property.
In October 2023, Gustin finally unveiled his stunning vision: the virtual reality experience called Creepy World VR™. The immersive journey takes hours to complete and features the awe-inspiring Capps exhibit with over 85 mesmerizing display cases. You have the option to examine each display case up close and personal, and in various locations, the exhibit's creator, Dan Capps, will appear to personally guide you through the specimens on display. The insectarium boasts more than a dozen macro-VR experiences, showcasing an array of fascinating creatures such as tarantulas, scorpions, walking sticks, praying mantids, tiger salamanders, bearded dragons, and even a chance to step inside a honeybee hive. After exploring the insectarium, you can embark on a half-mile trail through the woods, where the learning continues through encounters with plants, fungi, birds, and other wildlife.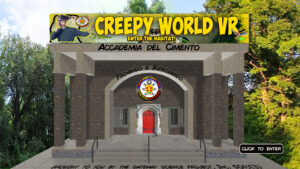 Currently, the entire experience is offered without charge. Gustin states that this is just the beginning of what is yet to come. In addition to incorporating numerous more VR encounters, a comprehensive learning curriculum will be implemented, complete with scorekeeping and unlocking secret areas via password access. Furthermore, a full-fledged gaming version, utilizing the Unreal Engine, is also being developed. The team is currently seeking funding to continue the project. "We've taken it this far out of pocket, but in order to take this project to where it deserves to be, that will require a bit more," Gustin said.
You can access Creepy World VR™ on either a PC or mobile device if you don't own a VR headset. If you'd like to try an inexpensive VR experience, consider purchasing a pair of Google Cardboard goggles from Amazon. These goggles are compatible with most smartphones that feature a gyroscope.
Try it for yourself by visiting https://creepyworldvr.com